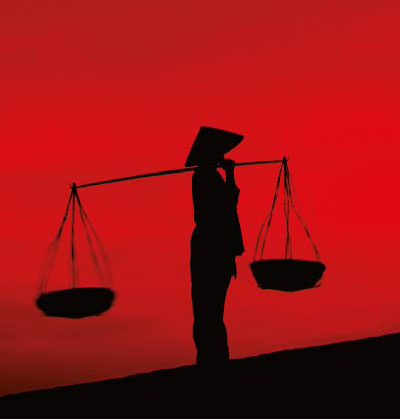 Introduction
Vietnam, land of the blue dragon
With her origins shrouded in the mists of time, Vietnam has evolved a rich oral tradition of myth and legend. Vietnamese mythology contends the people are descended from a dragon and a fairy. The union of the dragon, King Lac Long Quan, and the enchanting mountain fairy Au Co produced one hundred offspring. The eldest son became the first King of the thousand year Hung Dynasty. This dynasty is commemorated to this day as the bud from which the Vietnamese nation ultimately flowered.

Throughout time, Vietnam has forged her identity through the highs and lows of history. Today she has become a robust and vibrant commercial hub and thriving travel destination in the heart of Southeast Asia.

With her 3,000 km coastline bejewelled with sun-drenched sandy beaches imbued with a vast array of resorts and hotels, Vietnam has established a growing reputation as a first-class beach destination.

Possessing a unique cultural and historical heritage, Vietnam is an idyllic choice for travellers in search of exotic travel experiences not to be found anywhere else. A grand exploration delves deep into the heart-warming natural hospitality and charm of the peoples and soul-stirring landscapes of Vietnam.
Destinations
Travel tips
Tết Nguyên Đán, literally the 'Festival of the First Day' is the Lunar New Year period in Vietnam. Lasting 4-5 days, the vast majority of people simply refer to it as 'Tet'. More than the turning of the seasons, the importance of Tet has no equivalent in western cultures or societies. If one can imagine the combined importance of western Christmas, Easter, Thanksgiving, New Year's Eve, Remembrance and Memorial days, that would begin to approach the solemnity, significance and joy of Tet for the Vietnamese people.

Steeped in myth, legend, ritual and tradition, Tet is a symbolic period of rebirth and renewal; of joy and merriment; a time for homecoming family reunions and fulfillment of filial piety duties. Houses are spring-cleaned and spruced up with a lick of paint or whitewash. Ancestral graves are cleaned and repaired. New clothes are purchased. Friends are visited with token gifts and warm wishes for a happy, healthy, prosperous and successful new year. Debts are repaid and outstanding matters are finalized in preparation for a fresh, new beginning for the coming year.

In traditional legend, the Kitchen God (Ông Táo) would ride a giant carp to Heaven on the 23rd of the 12th Lunar month. The Kitchen God hears and sees all that happens within the house and reports to the Jade Emperor (Ngọc Hoàng) on the happenings over the previous year.

Vietnamese people enjoy a very close spiritual relationship with their ancestors. On New Year's Eve, the head of the family will make offerings to the ancestors and invite them to return and join the family for Tet. In many families, a place will be set for the ancestors and food served.

Tradition and custom play a large part in Tet celebrations. Elders and children are presented with bright red envelopes containing money. Elders are wished happiness and longevity, while children are wished prosperity and happiness. Everything is prepared in advance so little or no work is done during the Tet period and the family can truly enjoy each others company in relaxation and festivity. The New Year's Day is spent only with the family. The Second day for visiting extended family and neighbours, the third day for visiting friends and the fourth day for sightseeing. With every visit will be a meal, regardless of time of day as traditional Vietnamese hospitality overflows on this happiest of occasions.

AO DAI (TRADITIONAL VIETNAMESE DRESS)

Like almost all societies that have risen from agrarian cultures, Vietnamese traditional attire was always plain, modest and practical. Simple trousers, skirts and shirts. For formal occasions in the countryside, a splash of colour may be added by a scarf worn around the waist or twisted into a turban as headwear.

With the passing of time and the influences of different regional climates and the introduction to western cultures, Vietnamese attire has evolved into what we see today. A classic case in point is the traditional "Aó Dài" or "long tunic".

Historically a unisex ensemble of a long, loose, tunic-like gown with long sleeves and slits on either side, it was worn over loose fitting trousers. While the traditional "Aó Dài" will sometimes be worn by the Groom at his wedding, it is almost exclusively worn by women in modern Vietnam.

As the "Aó Dài" has evolved over the ages, so have its fashions. Once a simple ensemble in plain colours and cloth made to almost the same patterns, today the "Aó Dài" comes in a myriad of variations and designs. From sombre, respectful iterations with subdued colours and motifs for the family matriarch, to bright, stylized, coquettish numbers for eligible single women. No matter the design or style, they all share a single important commonality.

If she can afford it, no Vietnamese woman would dream of purchasing her perfect "Aó Dài" off the rack. The "Aó Dài" is made-to-measure with as many as 60 different measurements needed to ensure a fit to die for. The perfect "Aó Dài" should accentuate the bosom and flatter the derrière while highlighting the figure in lithe, graceful lines. Colours, fabrics, embroidered designs or motifs and accessories add to the perfection.

The grace and femininity of the "Aó Dài" have made it a ubiquitous symbol of Vietnamese culture and refinement. Worn as uniform by senior high school girls and female teachers, it is favoured by companies large and small for their female staff.

In some families, a young ladies first "Aó Dài" is seen as a symbol of her attaining womanhood. For many Vietnamese women in the countryside, they may have only one throughout their life. It will almost certainly be the most cherished item in their wardrobe. To see rural women resplendent in their "Aó Dài" is to know you are witness to an important occasion.

VIETNAMESE MARKETS

The size, purposes and locations of the markets are one of Vietnam's most intriguing attractions. City or country; early morning or late evening; on a river or in a mountain clearing; every day or once a year; purely for commerce or with important social networking purposes; the markets are a window into the soul of the community.

COUNTRY MARKETS

In the Vietnamese countryside, there are three broad types of markets: a fair; an early morning market and an afternoon market. Rural towns will also usually have an all-day market. In the hamlets and villages, with available space always at a premium and for convenience sake, the early morning and afternoon markets may share the same location, differing only in the time of day and produce or goods purveyed. Most commonly, fresh produce in the morning and durable goods, household items, clothing, etc. in the afternoon.

UNUSUAL MARKETS

Markets in the highlands and mountainous areas of Vietnam are especially fascinating because of the number of ethnic minority peoples they attract. Held weekly, these markets are a kaleidoscope of colours. With their villages perhaps two or three days walk away, these markets play a crucial role in forming and maintaining communities and cultures. The people may spend a couple of days at the market before making the arduous trek home.

In some regions, particularly largely homogenous ethnic areas, some markets serve as a match-making occasion. With many ethnic minority peoples living in villages of extended family groups, the market may be the only opportunity to meet a potential spouse. In time, these "love markets" as they are commonly called, have developed their own rituals and customs.

In the watery expanses of the Mekong Delta in southern Vietnam, the canals and waterways serve as the roads and highways and the boats as cars, trucks, taxis and even mobile "shops" in the floating markets.

Floating markets are common throughout the Delta. Many are both wholesale and retail markets with housewives in canoe-like paddle boats jostling for their daily shop in and out of larger vessels up to 100 tons or more transferring cargo for onward sale up river to the towns and cities. Often located near key towns with road access to the cities, the larger floating markets serve as transshipments points for primary produce heading north and manufactured goods heading south for distribution.

ETHIC MINORITY MARKETS

SAPA

The valleys and peaks surrounding Sapa are home to the Red Dzao and Black H'mong ethnic peoples. Like the ethnic minority peoples throughout the north-western highlands, they gather regularly at the market. The Saturday market in Sapa town sees them selling their produce, buying supplies, meeting friends and getting together socially.

For the Red Dzao, the weekly market also served as a "love market". On Saturday evenings, the young men and women would court each other in song. Hidden in the darkness, the young suitors would follow the voice of a prospective partner if they liked her voice and the substance of her replies. When the couple 'found' each other, they would follow the customs and traditions to explore the possibility of courtship and matrimony.

With the arrival of tourists, the inherently shy Red Dzao young people no longer perform this match-making custom to the open public. However, a very authentic performance of the ritual is performed for visitors while the young people continue their personal performances away from prying eyes.

Aside from all manner of produce and livestock, Sapa Market offers a myriad of traditional Black H'mong and Red Dzao weaving and embroidery handicrafts, foods and drinks. The brightly coloured embroidered and dyed handicrafts, cloth, scarves and bags attract many travellers looking for an authentic souvenir to rekindle memories of their visit to this exotic market.

HA GIANG (KHAU VAI)

Of all the markets throughout Vietnam's north-western provinces, the Khau Vai "love market" in Meo Vac district of Ha Giang province is one of the most famous. Held only once each year on the evening of the 26th/27th of the 3rd Lunar month, the market attracts throngs of Nung, Red Dzao, White H'mong, Muong and Giay ethnic minority peoples seeking those they still hold a torch for from their youth.

Several legends exist as to the origin of the Khau Vai "love market". However, all share the same theme of unfulfilled love. The most commonly recounted legend is that of a Giay lass and a Nung lad who found love. Since they were from different ethnic groups, marriage was forbidden. Taking no heed, the couple continued their relationship until the affair caused an outbreak of violence between their clans. The couple resolved to sacrifice their love for the sake of peace between their peoples. However, love is no weak thing. They agreed to meet secretly in Khau Vai for one day each year, and did so for the rest of their lives.

To this day, people come from far and wide in the hope of meeting their 'old flame'. An air of nervous expectation pervades. Some will simply make longing eye contact and be satisfied with that. The lucky few will chat earnestly together, catching up on the past. Most, however, will not catch sight nor whisper from their past love amid the vibrantly coloured crowd.

THE SYSTEM OF VILLAGES AND NATIVE LANDS IN VIETNAM

Vietnam is endowed with a rich culture stemming from a wet rice civilization. Thus, the traditions of the Vietnamese people are closely attached to their villages and native lands. The definition for ' villages and native lands' means different things in the spoken and written language of each ethnic group in Vietnam.

Villages and native lands are defined as Lang in the Vietnamese language, Chieng in the Tay-Thai language, Ban in the Muong language, and Buon Play in the languages of several other ethnic minority groups inhabiting the Central Highlands. The Lang (village) is an extremely interwoven social unit. It is not only an administrative organization but an economic unit based on sections of farmland. Farmers living in the same village are closely linked by family, community or business.

Thus, the habits, religious practices and festivals are all based on the origins of the village. Deep in the recess of every Vietnamese person's memory are the permanent images of his or her village. It may be a Banyan tree standing at the front gate of the village or the bamboo groves surrounding it, deep water wells, the roof of the village temple, a distant mountain peak, a nearby river, paddy fields or the joyous sounds of the bustling village.

There is no more colorful time to be in Vietnam than during the days leading up to "Tet Nguyen Dan", the most important festival of the year for the Vietnamese people. Since the first days of lunar year are thought to set the tone for the next 12 months, everyone strives to plan the perfect Tet. In Hanoi, the narrow lanes of the Old Quarter are a hive of activity.

As preparations for the holiday are completed and houses are well-stocked with food and sweets, families gather together to share an evening meal on the last day of the 12th lunar month. Food and drink is offered to the family's ancestors and they are invited to join the family for the holiday. Before the family begins to eat, the family group will raise their glasses in the first toast to the New Year. Afterwards, it is customary to join the throngs of people in the streets to take in the local firework display.

The first few days of Tet are spent in relaxation with one's family. Indeed, many shops and businesses are closed during this time. Spending time with family, paying visits to friends, relatives and neighbours and hearty meals for all those who drop by are hallmarks of this joyous time of year for Vietnamese people.

LIM FESTIVAL (22 February 2013)

Lim village is only 18km from Hanoi and every year is host to the Quan Ho folk song festival. Thousands of visitors come here to enjoy singing competitions between the country's most skilled "lien anh" (male singers) and "lien chi" (female singers). In addition, visitors come to enjoy the weaving competition of the Noi Due girls who weave and sing Quan Ho songs at the same time. As with many traditional festivals, there are a host of other activities on show including colorful processions and temple games.

PERFUME PAGODA FESTIVAL (26 March 2013)

Vietnam's most celebrated festival is held each February at the Perfume Pagoda, 70km south of Hanoi. It is the most famous Buddhist pilgrimage site in northern Vietnam and every year literally tens of thousands of pilgrims travel to the sacred cave to pray for happiness and prosperity for the coming year. The trip to the cave, set high up in a limestone mountain is made all the more interesting as visitors have to board small row boats and cruise through a dramatic landscape of rocky outcrops and lush rice paddies in order to reach the foot of the mountain. From the riverbank, visitors continue on foot, past various pagodas and

shrines, up hundreds of stone steps, all worn smooth by the passage of time and countless feet.

COW RACING FESTIVAL (3 – 5 October 2013)

Each year on the last day of the Khmer calendar, the Khmer, an ethnic minority group living in the Mekong Delta stage a festival to honor their ancestors. The festival begins with a visit to the pagoda, where Khmer families invite the souls of their ancestors to dine with the living. Visitors arriving during the festival will be warmly received as the Khmer believe they are messengers sent by their ancestors. Following a visit to the pagoda people walk to the nearest stream or river where they tie the trunks of banana trees together to form rafts. Offerings are placed on the rafts, which are then placed in the water and swept away by the current.

These quiet, dignified ceremonies are in marked contrast to the highlight of the festival, the cow race. The racetrack, set in a muddy and slippery paddy field is 120m long, with both the start and finish lines marked with red and green flags. Each race involves two pairs of cows, controlled by two young men. To make their job more challenging the rules dictate that the cows must run in a straight line and will be disqualified for veering off course. The races are both exciting and hilarious. People travel from miles around to watch, bringing food and organizing picnics. Part rodeo, part race and part comedy, a Khmer cow race is an unforgettable spectacle.

HUNG TEMPLE FESTIVAL (17 – 20 April 2013)

According to legend, the ancestors of the Vietnamese people were born on Mount Nghia Linh in northern Vietnam. The story tells of Au Co, a northern mountain princess, who married a sea dragon named Lac Long Quan. Au Co gave birth to 100 eggs, which hatched to reveal 100 sons.

From their birthplace on Mount Nghia Ljnh, 50 sons followed their father to the sea, while the rest stayed with their mother to rule the land. These sons became Vietnam's first rulers, the mythical Hung Kings. The Hung Temple Festival runs from March 9th of the lunar calendar to March 11th. Visitors climb 225 steep stone steps to reach Ha (Lower) Temple, the place where Au Co is said to have given birth. Another 168 steps lead to Trung (Middle) Temple, where the Hung kings performed religious ceremonies to honor the Sky, Earth, Mountain and Paddy Spirits.

Each year during the Hung Temple Festival, people gather to perform the ancient ceremonies - lighting incense, offering sticky rice and beating bronze drums. These rituals are followed by a bustling temple fair. Entertainments include bamboo swings, wrestling matches, sword dances, folk songs and traditional operas.

ELEPHANT RACE FESTIVAL (April 2013)

This festival is held in the spring, around the 3rd month of the lunar calendar. It is usually held in Don Village near the Sevepoi River in the Central Highlands province of Dak Lak. The race track is on even ground and the width of the track is large enough for 10 elephants to stand in a line at the same time whilst the length of the track is between 1-2 km. With the sound of the horn, the mahouts command their elephants to proceed to the starting line. With the command to start the elephants rush ahead, excited by the sound of the drums, gongs, and cheering from the crowd. At the end of the race, the winning elephants raise their trunks to salute the crowd and receive sugarcane from them. The elephant race is the largest festival in the Central Highlands. It embodies the combative spirit of the M'nong ethnic group, who are famed for their bravery and skill in hunting wild elephants.

PHU DONG FESTIVAL (15 - 21 May 2013)

According to legend, during the rule of the 6th Hung King, the land of Van Lang was invaded by northern An forces. The king sent envoys throughout the country, calling for help to repel the enemy. At that time, there lived a 3-year old boy named Giong who was unable to walk or speak. When the child heard the king's messengers, he suddenly leapt to his feet and announced that he would save the country. Brought before the king, Giong requested a coat of armor, an iron horse and a spear. He then ate 7 baskets of rice and 7 baskets of eggplants, after which he was transformed into a muscular young man. Giong donned the armor, mounted the horse and galloped off to war. When Giong's spear finally broke, he uprooted sticks of bamboo and used them to mow down the invaders. Each year, villagers from Phu Dong in the Gia Lam District of Hanoi organize a festival to honor Lord Giong and re-enact the epic battle. One of the most important ceremonial events in the Red River Delta, the Phu Dong Festival runs from the 6th to the 12th day of the fourth lunar month.

MID-AUTUMN FESTIVAL (19 September 2013)

In the days leading up to the Mid-Autumn Festival, the toy shops lining Luong Van Can Street, in Hanoi's 0ld Quarter are festooned with colorful masks and plastic lanterns shaped like fish, dragons and lobsters. Walk further into the Old Quarter, to Hang Ma Street, and you'll pass groups of children carrying traditional star-shaped lanterns, dragon masks, and feathered tiaras. But you need not be in Hanoi to enjoy the festivities. The Mid-Autumn Festival, also known as the "Moon-Gazing Festival" is held throughout Vietnam. The festival stems from a legend about a Chinese king who was briefly transported to the moon. Upon his return to earth the king decided to share his vision of the moon by hosting a magnificent festival. Today, the Mid-Autumn Festival is devoted to children. On the 15th evening of the 8th lunar month, families prepare a feast of sticky rice, fruit and boiled chicken, placed on their ancestral altars. Incense is lit and the ancestors are invited to join the celebrations. Children receive toys, masks, lanterns and moon cakes (square cakes filled with onions and spices) and round "deo" cakes made of sticky rice stuffed with a sweet paste of lotus and soybeans.

In central and southern Vietnam people hide moon cakes around their houses and invite the neighbor's children to find them. A house full of children looking for moon cakes is said to bring good luck. Lion dances are also thought to ensure good fortune. Accompanied by gongs and bells, a man in a huge lion mask is followed by a train of children. This dance is based on a legend about an old woman who was caught by a lion on the night of the Mid-Autumn Festival. She asked the lion to allow her to attend the evening's festivities, promising to return the next day and accept her fate. The lion agreed and the woman joined her neighbors in celebration. Come morning, she remembered her predicament and began to cry at which time the gods intervened and sent a magical snake to save her. The dance is a recreation of the fight between the snake and the gullible lion.

DO SON BUFFALO FIGHTING FESTIVAL (13 September 2013)

2 buffaloes face each other, heads lowered, wild-eyed. Around the ring, the crowd falls silent, until the only sound is that of the buffaloes' angry snorts. Suddenly, they charge. There's a shuddering jolt as the buffaloes lock horns. The ground shakes with the force of their impact and the onlookers go wild, screaming in support. Finally one buffalo tires and unable to withstand the punishing blows he turns to flee. The victor follows, eager for blood, and the crowd emits a gasp.

Preparations for the Do Son buffalo festival begin months in advance. In the 6th lunar month each hamlet selects one buffalo specially bred and trained to fight. On August 9th of the lunar calendar, the festival opens with a ritual offering to the gods of a buffalo, a pig and a basket of sticky rice. Next comes a procession in which 12 young men carry a palanquin, followed by drummers, musicians and 6 fighting buffaloes, flanked by a second group of 12 men, all dressed in red. Matches can last for hours and in some cases the fights run late into the night. Finally the exhausted buffaloes are led away and a winner is declared. The victor's glory, however, is short-lived. That night all of the buffaloes will be slaughtered and the meat distributed to the participating hamlets. The festival ends when the head of the winning buffalo is thrown into the ocean as a tribute to the God of the Sea.

No Data
No Data
No Data
No Data
No Data
No Data