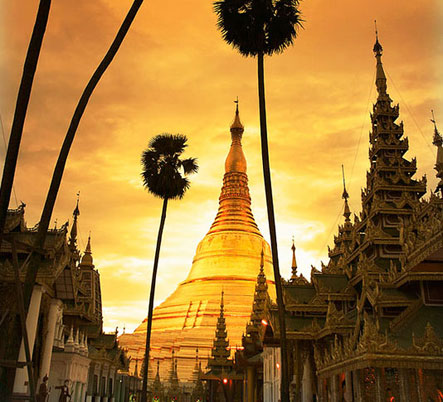 Introduction
Myanmar, golden land
Myanmar, formerly known as Burma, is dubbed the "Golden Land" festooned with numerous Buddhist structures and images. Boasting as one of the earliest homes of mankind, Myanmar is amongst the most mysterious and least-travelled nations in the world. This Buddhist land is an ideal destination for travellers to bask on sun-drenched beaches, to immerse themselves in picturesque landscapes or to delve into a plethora of history and rich culture.

This sacred land is imbued with the wonderfully quaint traditional delights of Asia which are rarely found elsewhere. The undulating terrains dotted with virgin jungles, magnificent mountains, sprawling pristine coastlines, coupled with a rich and glorious heritage spanning more than two thousand years offer savvy holidaymakers a wide range of travel selections from laid-back indulgence to intrepid adventure. Spectacular monuments and ancient cities attest to a vibrant culture that is still home to 135 different ethic groups.

Whether you cruise on the mighty Ayeyarwaddy River, drift over the ancient city of Bagan by hot air balloon or search for the elusive tiger on the back of an elephant, there is always a feeling of adventure. With upgrades to the of transport system and an increase in the number of flights, new and exiting "off-the-beaten-track" destinations are gradually being opened, from mountain trekking and rafting in the far north to world-class diving in the Mergui Archipelago. But all above, Myanmar offers the warmest welcome in Asia.

YANGON & THE COUNTRYSIDE
Yangon is the cosmopolitan capital city and gateway to Myanmar. The city is known for its lush tropical trees, shady parks and beautiful lakes and is referred to as the "Garden City of the East". It was founded by King Alaungpaya on the site of a small settlement called Dagon when he conquered lower Myanmar in 1755. The name Yangon means "End of Strife". The city today still maintains its colonial charm and gracious turn of the century architecture. Towering over the city is the magnificent gold-encrusted Shwedagon Pagoda - one of the country's most beautiful treasures and a place to observed devout Buddhists as they meditate and pray.

Other recommendations in Yangon include Chaukhtatkyi - the Reclining Buddha, the colorful markets of Chinatown, a Meditation Centre, Sule Pagoda, Botataung Pagoda, Kaba Aye Pagoda, Maha Pasana Guha Cave, Kalewa Monastery, the Buddhist Art Museum, the National Museum, Naga glass factory and the Bogyoke Aung San (Scott) Market.
Destinations
Travel tips